Only Protein

Customer Testimonials
Our customers enjoy the benefits of a truly nutritious product and we would love to hear from you. If you have a success story using Only Protein, either post it on our Facebook page or send it to us! You may be selected to recieve a Full Months Supply of Only Protein!
I use the chocolate protein product.
It mixes up good in almond milk. Tasted pretty good with no aftertaste at all! I like the single serving pack idea. Nice to throw in the gym bag. Overall it is a great product!"

-- G.R., Chillicothe, Ohio
Quite interesting for a chocolate flavor...slightly bitter and creamy.
As far as whey, it may be the difference between location (New Zealand) that gives it another flavor. Compared to many chocolate brands it wasnt artificial at all and very mellow. I like the fact it comes in convenient hassle-free stick packs, which are perfect for travel or those that also take their protein to the gym. Overall, portable, great amino acid profile, natural flavor with a few goodies. Great!"

-- L.R., California
I got my Only Protein powder sticks super quick in the mail, like one week literally!
I used a Ninja brand blender and 8oz of whole milk per packet and enjoyed a great tasting and very easy digesting shake for my wake-up protein drink. I especially enjoyed the Vanilla flavor as I added a whopping scoop of Nutella. I look forward to seeing what else your company has to offer. I highly recommend it for a late night or early morning protein source."

-- Z.S., Virginia
I want to say thanks for sending out the packets of your Only Protein powder.
I received 3: 1 each of vanilla, chocolate and mocha. Not only did all 3 flavors taste amazing, but what I really liked most about this protein was the make-up of the product. Grass Fed, All Natural and No GMO's...you don't see that too often when looking at protein powders. And that immediately sold me on the product. Plus the nutritional content of each packet was amazing in my opinion. You guys at Only Protein hit this one out of the park! I am definitely going to spread the word to my family and friends about this supplement."

-- D.D., Idaho
I use both the chocolate and the vanilla and they both taste great.
I mix it with milk and a scoop of peanut butter and it's heaven. No nasty after taste or anything. This product helps me meet my protein needs and also aids in recovery. I am on cut and with only 1g of fat and 5g of carbs this really helped in my overall goals. Overall, I'd recomend it. It's a good source of protein and being Gluten free and grass fed it will appeal to a new crowd."

-- Q.N., Portland, Oregon
It gives me energy and I am not hungry all morning
AM A FULL TIME HUNTING GUIDE AND OUTFITTER!! I AM ALWAYS IN THE MOUNTAINS ON HORSE BACK OR WITH A PACK ON MY BACK!! I STARTED USING ONLY PROTEIN FOR ABOUT 3 MONTHS NOW AND IT IS AMAZING!!! EVERY MORNING I USE THE MEAL REPLACEMENT !! IT GIVES ME ENERGY AND I AM NOT HUNGRY ALL MORNING!! THE BEST THING IS IT TAKES NO ROOM,NO EXTRA WEIGHT AND IT IS EASY WHEN YOU ARE ON THE GO LIKE I AM!! "

-- Thomas Baker, Burro Crazy Outfitters
I love this product!
Thank you, Only Protein for helping reach my fitness goals!!! I love this product since winning it at the Boise Bodybuilding expo 2011. I plan on using Only Protein for 10 more weeks while training for the October fitness show...

-- Brandie Heward

I am loving the results!
I have been using Only Protein for a few weeks now and I am loving the results! Can't believe the difference I feel out on the track and in the gym. It's exactly what you need for the high strength/endurance sport that we compete in!

-- Landen Powell

I've dropped about 2% Body Fat in the past month!
"Hey bud. Thanks for checking in. Yes. I love the protein. I like the chocolate flavor better than the vanilla but I was pleasantly surprised about how good they both taste and how easily and completely they mix into water. I've dropped about 2% bodyfat this past month with my protein being my only real change. The shows are both really fun. Can't wait for you to see em and to see you. All the best"

-- James Royce Edwards

Totally amazing and AWESOME!
"I just want to let everyone know, Mike one of the owners personally called me to let me know about my order! WOW! That is totally amazing and AWESOME customer service. My order will be here in the morning!!! YIPPY!!!! I'm soooooooo excited! And, a personal HUGE thank you to Mike for that wonderful phone call! Truly amazing! :-D THANK YOU!"

-- Rachelle Funcke

The Energy Boost was Consistent!
"Hi Mike, Just wanted to let you know that I used the meal replacement on my recent run of the Squaw Peak 50 Mile Endurance Run.  I switched back and forth between Hammer Perpetuum, and OnlyProtein meal replacement, and I honestly REALLY liked the OnlyProtein.  The consistency and flavor both seemed to be perfect for that use, and the energy boost was consistent between the two.  I did "double up" on the amount of powder so I was able to sip it over 2-3hr periods between refills. I'm going to do several long training runs exclusively with the OnlyProtein meal replacement between now and the Speedgoat 50K, and I'll let you know my thoughts.  Talk to you soon, and let me know when you want to get out on "real rock"! Thanks!"

-- Vince Romney

Best stuff on the market!
Best stuff on the Market~ Power up, one more month until the Utah Hunts Start. Only Protein + 300RUM +MossBack = BIG BULLS n BIG BUCKS

-- JR

Only Protein Contains No Harmful Ingredients: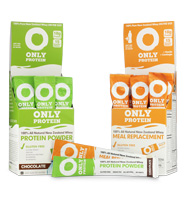 Only Protein Powder Sticks On-the-go! Perfect for on-the-go Protein when you need it most. Only Protein is available in 3 different flavors and is shipped to your door fast.



I am a computer guy and I have very limited time to focus on meals during the day. I always drink an Only Protein Meal Replacement on my way out the door to work. I works wonders. I can think clearly, I feel full until lunch time and I notice a great boost of energy.. I drink another one around 2pm. It gives me that extra push to get me through the rest of the day. Thank you for a great product!
- B Hunter