Authored and contributed by R.C., an Only Protein customer from Roanake, Texas
ONLY PROTEIN MICROWAVE CHOCOLATE CAKE
Ingredients
1/4 cup unsweetened cocoa powder
2 scoops Only Protein Vanilla or Chocolate protein powder
2 tablespoons peanut flour or just more protein powder
1/4 tsp salt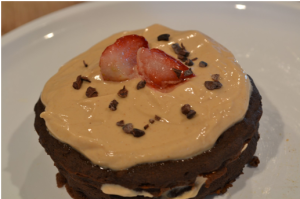 12 drops liquid stevia or ½ tsp (approx 3-4 packets) of stevia powder
1/2 tsp baking powder
2 tablespoons pumpkin puree, applesauce, or mashed banana (I used pumpkin)
1/4 cup milk of choice (I used unsweetened almond milk)
1 whole egg or 2 egg whites; can use one flax or chia egg for vegetarian option
1/2 tsp pure vanilla extract
2 tablespoons Peanut Butter Greek yogurt icing (optional; recipe below)
Directions
Combine dry ingredients and mix well; add liquid, stir, and then transfer half of the batter to a greased round, shallow dish like a ramekin.
Microwave 2 minutes and 10 seconds (may need another 20 seconds if not set). Wait for it to cool about 2 minutes, remove from dish and cook other half of batter.
Spread icing on top of first half, set other half on top and use remaining icing to cover the top.
Optional: sprinkle with cinnamon or cacao nibs with a cherry or strawberry on top. Oh, I bet sliced banana would be great too!
Greek Yogurt Protein Icing
1/3 cup plain, non-fat Greek Yogurt
1/4 cup peanut flour, vanilla protein powder, or chocolate protein powder
1/4 tsp pure vanilla extract
This is fabulous on its own too!