Authored and submitted by R.C., an Only Protein customer from Roanoke, Texas
Pumped Up Only Protein Brownies – Sugar Free and Healthy
1/2 cup Only Protein Chocolate Protein powder
3/4 cup oat bran
1/4 cup unsweetened of cocoa
1 tsp baking powder
1/4 tsp or less of salt
3/4 cup egg whites
1/4 cup low fat cottage cheese or 0% plain (or vanilla is want it really sweet) Greek yogurt
1/2 cup pumpkin puree or mashed banana
1/2 cup milk of choice; I used unsweetened almond milk
Add all ingredients to large bowl, blender, or food processor and blend well.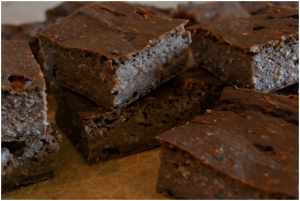 Pour into a parchment lined or greased brownie pan
Bake for about 30 minutes at 350 degrees F. or until a knife inserted in the middle comes out clean. Let sit in pan another 5-10 minutes after removing to allow to cool. Then dig in to reward yourself for your patience!